It's still more than five months until the 26th annual Inman Farm Heritage Days on Sept. 15-17, but we already are spending time getting ready for it.
Daniel Perkins, Alex Vance and I have started working on Mr. Travis Hardy's 1968 model John Deere 95 combine. It's been sitting under a shed for years, but we plan to move it to Inman and make it a permanent part of our show. We will use it to tell the story of the grain farming that once was so active around south Fayette County.
We started by airing up the tires, but we've hit a snag as the engine, after sitting for years, is stuck tight. None of us has gotten frustrated, not yet anyway. We just keep soaking the cylinders and trying to get the engine back in running order. Rest assured we will have it at the show this year, whatever it takes.
Chris Gibson, Ray Carden, Forrest Ballard and Allen Pierce are leading the way in helping us get together a nice exhibit of old garden tractors and lawn mowers.
Ray has gotten an old JARI mower, which has been rusting away for years, both running and cutting. He's now turned his attention to an old Yazoo riding mower and a Snappin' Turtle walk-behind mower.
Forrest resurrected two of our old Snapper rear-engine riders, one of which was the first riding mower purchased by the Inman Cemetery Committee.
We've recently been given a large collection of old equipment that belonged to the late Buck Morris, one of the cornerstones of our Inman shows and a great friend and mentor to a lot of us old-iron enthusiasts.
These projects have presented us with challenges as well, but that's fine. Solving the problems that come with restoring old equipment can be one of the life's simple pleasures, if you're so inclined.
I love the old-tractor books written by the late Roger Welsch, who explains better than I ever could how much satisfaction comes with the greasy, grimy work that is old-iron restoration.
Welsch, who was better known for his work on TV for CBS News, knocked it out of the park with his tractor books – "Busted Tractors and Rusty Knuckles" and "Old Tractors and the Men Who Love Them."
I thought about Mr. Welsch on Saturday as Allen Pierce and I cleaned the rust and gunk out of the front wheel bearings on an old John Deere 100 lawn tractor that once belonged to Allen's dad.
By the time we finished we both had grime and grease up to our elbows. But it was a grand time, made even better by the unexpected visit to our nearby gourds by a group of Purple Martins.
(I sure hope they return to raise some little ones here. Although I don't know birds as well as Allen does, I am fascinated by my feathered friends.)
Later that Saturday I tried starting some of Buck's old Snapper riding mowers that we had retrieved from the loft of a barn, with a big assist from Buck's son-in-law Gary Tye and Gary's granddaughter Joleigh.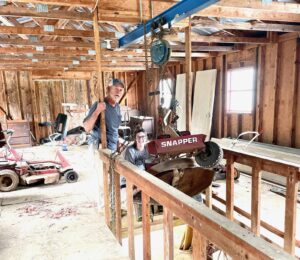 It made my day to hear a couple of those old engines sputter to life, even if they only ran until the starting fluid I sprayed in the carburetors ran out. I know they'll soon be running, with the rest to follow later.
More simple pleasures were in store the next day as Chris Gibson and I began moving some more of Buck's lawn mowers to the farm. The tires and wheels of some of the mowers had sunk down in the ground several inches. Only a few of the tires held air.
We had to use a dolly to tow the ones that wouldn't roll.
Needless to say we didn't even bother to try to crank any of them, as they'd been sitting for years.
It was hard work, but also good fellowship.
Thanks for reading. Rick