Fifth Generation Family Farm
Specializing in locally grown fruits & Christmas trees.
Inman, GA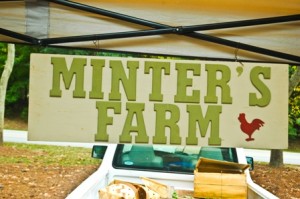 Welcome to www.mintersfarm.com, the official website for Minter's Farm and Inman Farm Heritage Days. The farm is located only 6 miles from downtown Fayetteville, 12 miles from Senoia and 16 miles from Peachtree City.
As we approach the holiday season, we are busy trying to get the Christmas trees ready to sell. We have done the majority of the trimming already and will be working on the grounds shortly afterward. Many people think that growing the trees is a easy task; but the reality is that we spend the majority of our time in the fields getting them ready for your homes. We love and appreciate all of our loyal customers and thank each and every one of you for supporting us throughout the years!
It is time for the Trees for Troops program to begin. We received the date for pick-ups of the trees at our farm – December 2nd (since Thanksgiving is later this year). We have our online store (through Square) set up where you can purchase a tree for a service-member's family to be delivered to them. This is a wonderful way to say thank you to the men, women and their families who sacrifice so much for us throughout their lives. We have just found out that the trees from our farm pick-ups as well as several others will be delivered to six of the National Guard Armories locations in Georgia! Please donate and allow these families to experience a real Christmas tree this year. Go to our Online Store to purchase a tree. And as always, thank you for your support.
Minter's Farm is in the same route this year as last year. We are focusing more on the at-farm experience. While we will still participate in a couple of markets in the area this year, our goal is to steer customers into coming out to the farm for their needs. We will open up the Market Store (on the Inman Farm Heritage Days showgrounds) for customers to come and purchase the goods we will have for sale. Check our Facebook page to stay up-to-date with what we have available!
Rick is delighted to tell everyone he is doing a periodic blog about his various restoration projects – projects varying between trucks to car to tractors to engines. Check out Rick's Rusty Relics page to keep up with what he has going on.
If you would like to sign up for our newsletter:
It's very exciting to see such an interest in the farm and what we're doing. Thank you!
Keep checking out the website, Facebook and Twitter (@mintersfarm) so you can keep in touch with the farm.
"Photos from the Farm" will allow you to follow our activities from season to season as will the "Postcards from the Po' Farm."
If you need more information or if we can help you in any way, contact us using the contact form or call us at 770-461-2840.
See you soon,
Rick, Joanne, Stephanie and Abigail