Tree work under way at Minter's Farm.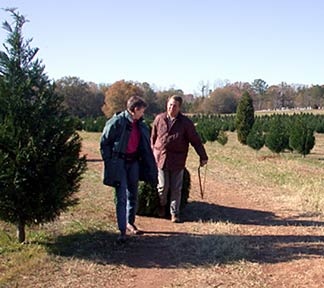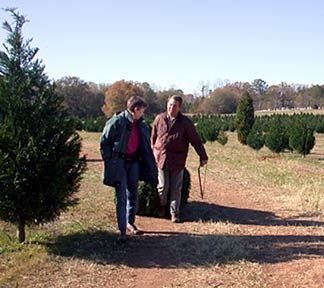 We feel like we have a various selection of trees this year. We have Leyland Cypress, (the tree that stays green and doesn't shed needles) from four to about nine feet tall.We also have Virginia Pines as well. In addition to the Leylands and Pines, there are some nice Carolina Sapphires and Blue Ice, which are shaped much like a Leyland or Cedar and have a pleasant aroma; there is also a small selection of Red Cedars. The Carolina Sapphires, Blue Ice and Red Cedars will be ready to cut around the weekend of the 10th of December.
And we will have some especially nice fresh-cut Fraser Fir trees from 5 to about 10 feet tall.
We'll offer hayrides through the farm during the Christmas season.
We sure hope you can come out and enjoy spending some time in the country this fall – and get a nice tree too!
We're open every day from 9 a.m. until dark (after 6) beginning Thanksgiving Day, and we look forward to seeing our old friends and to making some new ones.
Christmas Trees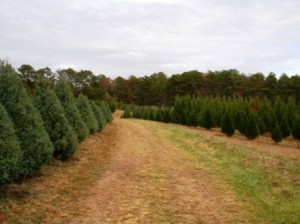 Minter Farm is Fayette County's largest Christmas tree farm, with more than 1,500 trees ready for purchase this holiday season. Leyland Cypress, Blue Ice and Carolina Sapphire trees are grown on the farm. Fraser Firs come from North Carolina.
Carolina Sapphires and Blue Ice are shorter season trees, much like the old Cedars. **REMEMBER: It's best to wait until the second week in December to start cutting them.**
We furnish saws so you can cut your own trees or we'll help you. You can drive to the fields or we'll carry you on a hay ride. We have materials to tie your tree to your vehicle.
We also have a Christmas Shoppe for all your decorating needs as well as stands and wreaths (pre-ordered). We also can drill your tree if your stand requires it. Come in to our Christmas Shoppe and get a sample of our spicy apple cider.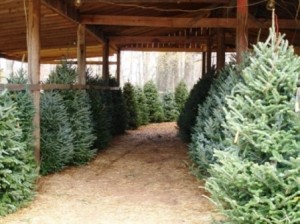 Come see us. You'll have a great time.
Prices:
Blue Ice: around $28
Leyland Cypress: $12-55
Carolina Sapphire: $20-48
Fraser Fir: $35 and up
You can pay for your tree with cash, personal checks, or all major credit cards.
Open 7 Days a Week
9 a.m. 'til Dark
November 21st – December 24th
UPDATED: NOVEMBER 26, 2016
Free Hayrides on Weekends!