As we head into the 26th annual Inman Farm Heritage Days, on Sept. 15-17, one of our main goals is to do a better job of telling the stories of the exhibits on display.
Each tractor or engine or piece of equipment has a story behind it, some more interesting than others.
A week or so back, Daniel Perkins, one of the volunteers and exhibitors at Inman, received a 1940 Ford 9N tractor that has been owned by the Herman Griffin family from Dallas, Ga., since it was new.
The story of the Griffin family tractor begins at a pivotal moment in our nation's history.
Daniel learned that Mr. Griffin purchased the tractor from a dealer in Atlanta on Dec. 6, 1941. It would be his first tractor, replacing his mules Mary and Kate.
The tractor was hauled by truck as far as McEachern, Ga., and unloaded late that evening.
The next morning, the tractor was driven the 7-8 miles from McEachern to Lost Mountain, Ga., with eight-year-old Jack driving while his father Herman followed in the farm truck.
Shortly after arriving at their home they heard the news of the Japanese attack on Pearl Harbor, where 2,403 American service members lost their lives, including 1,170 who perished on the USS Arizona.
With that story on my mind, I asked my dad, now 92 years old, how he heard about Pearl Harbor.
He said that Sunday, like many others, he had gone home from church at Inman Methodist with his cousins to Uncle Walter Burch's house on Ga. 92 between Inman and Woolsey. The boys were in the yard washing the car and heard the news on the radio. They drove to Fayetteville, to the drug store on the square, looking for more information but not learning much.
The next day, my dad said, the entire student body gathered in the school auditorium to listen to President Roosevelt's famous speech about the "day that will live in infamy."
Afterwards, his teacher, Mrs. Pullen, asked his sixth-grade class what the news meant. When no one else spoke up, my dad said: "It means we're in a war."
And that affected everyone, including the Griffins and their neighbors in Paulding County and the residents of Inman.
Four of Uncle Walter's sons – Walt, Gray, John M. and Bub signed up and served their country, as did their sister Mary Jean.
Lots of families sent multiple family members, many of whom made the ultimate sacrifice. All told, 405,399 American servicemembers were killed in World War II.
The Burches came through the war relatively unscathed, despite the risks they took, such as Gray's 52 missions as a B-25 pilot in the Pacific and Walt's participation in numerous battles from North Africa to Sicily to Italy and then France.
Others in and around Inman weren't so fortunate. In the cemetery adjacent to the Inman showgrounds are the graves of three who died in World War II – Emerson Callaway, Merrell Mask and John Price.
Emerson Callaway's grave is next to Hill's Bridge Road. Several years back, Inman residents added a marble slab to the ones Callaway's parents placed on his grave years ago.
On it is the following inscription:
"Emerson grew up in Inman, Ga., the youngest child of Howard Callaway, a noted brick mason and his wife, Elizabeth Johnson Callaway, fondly known as "Miss Lizzie". After one year at North Georgia College he returned home in June, 1944, and to Fort McPherson in Atlanta for induction. He hoped for the Navy where Ware, a brother, was an officer. Because of heavy casualties in the Pacific ground war, he was assigned to the Marine Corps and sent directly to Camp Pendleton in California for basic training. He completed training aboard ship and was killed in action on the second day of the invasion of Peleliu Island. He was barely 19 years old. He had been a Marine less three months. He never came home after the day of his induction, his family never saw him in uniform."
Another grave belongs to Merrell C. Mask, who was killed on April 15, 1945, while serving with the Second Infantry Division in Germany.
His brother Joe Mask, who has several family members including the Chasen family who participate in the shows at Inman, wrote this about his brother:
"Merrell was some kind of man. When we were planting crops he would put a 200-pound sack of fertilizer under each arm and tote them across a plowed field, making it look easy. Nobody wanted to take him on in a scrap.
"He wasn't afraid of anybody or anything. He didn't have to go into combat. He was an Army Air Corps military policeman stationed at Ft. Benning in Columbus. He could come home to visit often. But he felt like he wasn't doing enough. Our family had five brothers in the war and a brother-in-law in a prisoner of war camp….So Merrell figured he ought to go and help out. He volunteered for the Infantry and an overseas assignment.
"He became a rifleman. Mama didn't want him to volunteer because with the way he was, not scared of anybody or anything, so anxious to do his part in the war, she just felt like he would get killed.
"It was an anxious time for us at home. We listened to the radio and went to the mailbox every day hoping for good news and dreading bad news.
"Then one day we got the telegram. Merrell was 23 years old. That was in April of 1945 when he was killed, not long before the war in Europe ended.
"Mama died in March of 1946, not quite a year later. I think that telegram and having so many boys in the war had a lot to do with her dying when she did."
After their herculean efforts overseas, the members of the Greatest Generation who survived the war continued to leave their mark as did others of their era.
The Griffin family, after helping the war effort by growing sweet potatoes, farmed and sawmilled with their 9N. Three generations, including Herman's grandson Allan Griffin used the 9N before it was retired.
Herman Griffin is remembered as a man of high moral character and always self-sufficient. And one to help a neighbor if he could.
Each winter, he offered to let a local widow assist in the annual hog killings, not really needing the help but thereby allowing her to receive fresh meat while keeping her pride and dignity.
His grandson recalls driving back to town one night to return a dollar to a barber who had mistakenly given him too much change after a haircut.
In his 60s, the elder Griffin took a job as a night watchman at a thread mill, but still worked his fields in the daytime. At the time of his passing on May 20, 1972, he was believed to be the last farmer to grow cotton in Paulding County.
Likewise, the Burch family members and from Fayette County continued to be credits to their community.
All of us who enjoy the lives we live today owe a debt to the Greatest Generation, to those who served in the Armed Forces, and especially to those who went off to war and did not return.
Let's not ever forget them.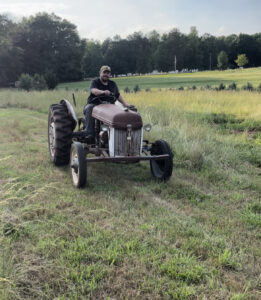 (Daniel Perkins on the Griffin family 9N Ford with the Inman Cemetery in the background)