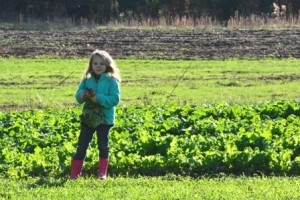 Our CSA Store is now LIVE!!! We're very excited (and nervous) about it all. Many have already signed up for their shares whereas several still have a few questions and things to finalize.
I am going to give you a quick rundown on how to sign up if you're interested!
1. THE MOST IMPORTANT STEP!!! On our CSA Program tab, at the bottom is our CSA Program Agreement (or you may click the CSA Program Agreement link). Look over this and print and sign the last page. This page must be returned to us. You may scan or take a picture and email this to us, mail a copy or bring it by the market or farm. Whatever is the easiest method for you works for us! The Agreement may also answer any of the questions you may have about the program.
2. Create an account. This has your email address, contact information, billing information, etc..
3. Go to the Store tab on our website. On this tab, you will find all of our options currently available for the basic sign-up. Right now, it only includes our produce and egg shares. When we get closer to the first day of the CSA, I will add meats. I will also add, throughout the year, any bulk produce we have that you may be interested in purchasing (for freezing, jams/jellies/salsas/etc.). * I will send out newsletters too to inform you of when these items will be available. *
4. Once you have chosen your options, be sure to choose your pick-up location! It won't allow you to proceed without selecting a place.
5. Add to Cart. This will take you to your Shopping Cart. You may choose to continue shopping or checkout.
6. Proceed to Checkout. You will then enter your credit card and billing info. You may create an account now if you didn't before, or choose returning customer.
7. **Under the Order Notes, please let us know of any food allergies you or your family have. We don't want anyone getting sick! If you forget this step, just email us the information (stephanie@mintersfarm.com).
Once you have submitted everything, you will receive a confirmation email. Print this off for your records. I receive the same email and will also print off for my records and put with your signed agreement.
We're looking forward to working with each and every one of you! Please let me know if you have any more questions.
Thanks,
Stephanie