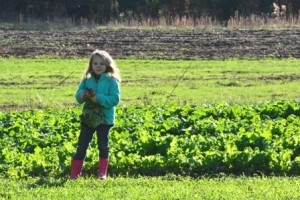 (our best helper in the turnip patch)
After extensive research and quite a few sit-downs about the next step Minter's Farm needs to take, we've decided to implement a CSA Program. YAY! Holy cow… what are we getting ourselves into?? There are many questions and emotions floating around here following this decision… Are we crazy? Will people want to participate? When should we start and end this? Deadlines = Panic attacks! Are we crazy? (that's the key one) Prices? Number of items to offer in each weekly program share?
We've received such good feedback and have had many people ask about CSAs that this seemed like the right decision for us. We're still in the planning stages (so we would LOVE your feedback on this) and will offer pick-up locations at the farm and the Farmers Markets where we will be participating as well. Our 2015 program will start the 1st of May 2015 and go through the 31st of October 2015. Not only will our shares include seasonal, grown-on-our-farm vegetables, they will also include seasonal fruits with add-on options for farm fresh eggs (as long as the chickens pick up their pace on the laying front… some are in need of an eviction notice), honey, and our homemade jams, jellies, preserves, pickles, pasta sauces, salsas, relishes and many more seasonal canned products. We're also considering the option to purchase bulk items on a week-to-week basis (depending on our supply) for items you'd be interested in preserving, freezing, canning or just really enjoy.
I'd love to hear your opinions on these things and what you'd like to see offered. Another vendor and I have toyed with offering a meat CSA and maybe some other yummy add-ons. Cheese seems to pop in my mind so maybe we can do some more research and work out some deals with other vendors/farmers. My email address is stephanie@mintersfarm.com so please let me know either via email or at the markets or let Rick know at the market as well. We will have a sign-up sheet this Saturday (January 24th) for both the CSA Program and our monthly e-newsletter I'll be sending out starting this week. I know you're all excited about hearing from us twice in one week! Our monthly newsletter will let you know everything going on with the farm for the month and what to expect in the next few weeks prior to the next issue, recipes and some other fun things. Our CSA program shareholders will also receive a weekly e-newsletter informing them of the "box" contents, new recipes, some additional goings-ons at the farm and more.
Meanwhile, on the farm front we are preparing the grounds to replant Christmas trees. It's hard to believe it's time to do this, but time always flies here… except when it's 100 degrees outside and the worst chores are on the docket. It definitely stands still then.
We will also be ordering seed and plants soon so let us know what you'd like to see whether it's something new (be feasible with this one… we're not going to be able to offer organically grown oranges here on the farm) or your favorite thing we've grown in the past. I'm anxious to see what the rest of our winter weather will be like this year. We've had some very interesting weather patterns and combinations so who knows what Mother Nature will have in store. She's a tricky one.
Our Certified Naturally Grown status is in the works and we're excited to say it's going to be a fun road ahead of us! Growing produce in an unconventional method may be daunting but the rewards are outstanding. We have earthworms everywhere again and the soil has taken on a new quality that we're proud to use. Remember, it's still a learning process for us so bear with us.
Enjoy your Tuesday and I look forward to hearing from everyone!
Stephanie