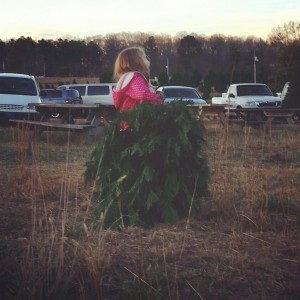 (Abigail dragging her very own tree – refusing help from Mom of course!)
If many of you are like me, you're busy trying to figure out where the last month has gone. The weather has been crazy (what happened to all that cold weather I thought we'd have??) and we're looking forward to warm Christmas this year. No luck for a white Christmas I guess. But Christmas is only 9 days away… and I'm panicking! My tree is up and decorated, miracles of all miracles, but not a bit of shopping has been done. Fortunately for those of you who don't have a tree, we have many here still left in the field and a few under the barn. There are a few families still coming out to get their trees and we have several scheduled to come Christmas Eve. Aren't traditions wonderful?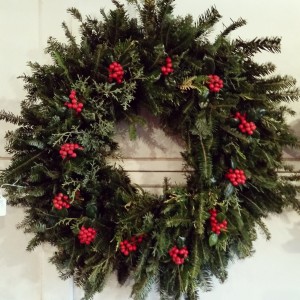 On the farm front, we have been taking care of the new (and old) chickens, getting our greens ready to sell, helping our tree and wreath customers, and getting the farm ready for the next growing season. We've added another high tunnel this year and are trying out a small crop of strawberries to see how differently they produce than the large crop that's growing out in the open. Also, we're hoping to get the different fruit tree fields ready and producing like crazy so we can open up for Pick-Your-Own in 2015. Hopefully the weather will cooperate and we can manage this.
I want to say a special thank you to all our wonderful customers, new and old, who make it out here to the farm for Christmas trees, the Inman Farm Heritage Days, the Inman Antique Truck Show or to the farmers market to support us throughout the year! Without every single person, nothing would be worth it. Thank you for putting up with crop failures, weather issues (we all know it likes to rain here at the worst times… but we won't complain), and supply and demand in general. We are truly blessed to have such wonderful people in our lives each and every year. THANK YOU!
Here at Minter's Farm, we hope each and every one of you have a safe, stress-free (maybe that's unrealistic expectations), beautiful Christmas with friends and family this year. Don't forget to get some greens for the holidays and definitely don't forget your collards and black-eyed peas for New Year's! Wouldn't want to chance it and miss out on luck and money for 2015.
Merry Christmas and Happy New Year from all of us here at Minter's Farm!
Stephanie
P. S. We have seen some wonderful pictures on our website from those of you who visited our farm. Please post more or send them to us (stephanie@mintersfarm.com) so we can put them on our website too!