February 20, 2014
Well, we've had lots of interesting weather since our last postcard… I spoke with one of our regulars at the Peachtree City Farmers Market yesterday and she brought up a great point: we seem to have bad winter weather every 10 or so years! 1973, 1982, 1993, 2000 and 2014 have all brought on weather that debilitated our state. We're just not equipped for winter in these parts and have been the punchline of jokes for the last month. So maybe it will be another decade before we experience it again…
Here at the farm, we were very lucky. We didn't have anything in the fields that could be ruined (they already were destroyed during the extreme cold snaps we had earlier). But it did give us time to get things prepared for the high tunnel and the low tunnels. There are carrots and radishes in the high tunnel now, with tomatoes (hopefully) going in the ground in the next few weeks. Our low tunnels have various greens as well. And on Tuesday afternoon, shortly before the little shower, Dad planted some more kale and arugula.
Since we're working toward our Certified Naturally Grown status, we have learned there are many things we need to do differently. For instance, we have to start with organic (certified/verified) plants and seeds… this means we've been having fun in the greenhouse planting new varieties and new plants. It's a learning experience, so I'm nervous as can be! I would hate for something to happen to the little babies. Many have already sprouted, thanks to the heating mats we bought, which makes we worried about the forecast for next week. I guess it's time for a heater.
Spring should be right around the corner. Here at the farm, we tend to go by the sandhill cranes' forecasts versus the groundhog's. They've been flying overhead for quite some time now and were so close Tuesday morning, I could hear their wings before I heard their cries. It was a pretty cool experience!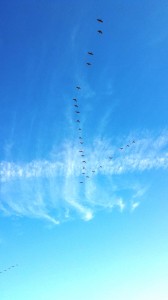 (no zoom)
Maybe now we can kiss this crazy winter goodbye! Of course, we haven't made it to March yet – and we all remember how crazy March can get!!
Enjoy this beautiful weather while you can… I know I will.
Stephanie