Fifth Generation Family Farm
Specializing in locally grown vegetables, fruits & Christmas trees as well as farm fresh eggs and jams & jellies.
Inman, GA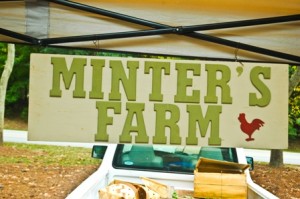 Welcome to www.mintersfarm.com, the official website for Minter's Farm and Inman Farm Heritage Days. The farm is located only 6 miles from downtown Fayetteville, 12 miles from Senoia and 16 miles from Peachtree City.
Our tomatoes are thriving in the high tunnel, the strawberries have been a big hit and we're getting ready to get back in the swing of things. Mother Nature has agreed to be more gentle (ha) and things are looking beautiful and lush.
The CSA Program has officially begun the sign up! The Store is now LIVE and you can go in and make your selections now. The starting dates to June 5th/6th-November 20th/21st to be sure we have plenty of fresh produce to offer our shareholders. We will also be sending out a newsletter with all kinds of info soon, so keep checking back for our new sign-up form for this as well (it will be separate from the Minter's Monthly).
Also, our flock of laying hens will be increased this year. The plan now is to begin raising our own chicken feed so that by late summer, we can assure our customers that our eggs are grown with non-GMO feeds.
Some have had many people express an interest in our weekly blogs on "Postcards from the Po' Farm" so we decided to start up a newsletter in the new year! If you would like to sign up for our newsletter:
It's very exciting to see such an interest in the farm and what we're doing. Thank you!
We are still attending the Peachtree City Farmers Market's (Wednesdays and Saturdays from 9AM-1PM in the parking lot by Partners Pizza) with seasonal produce, jams, jellies and farm fresh eggs that are collected, washed, candled and graded each day.
Keep checking out the website, Facebook and Twitter (@mintersfarm) so you can keep in touch with the farm.
"Photos from the Farm" will allow you to follow our activities from season to season as will the "Postcards from the Po' Farm."
If you need more information or if we can help you in any way, contact us using the contact form or call us at 770-461-2840.
See you soon,
Rick, Joanne, Stephanie, Tammy and Abigail