Fifth Generation Family Farm
Specializing in locally grown vegetables, fruits & Christmas trees as well as farm fresh eggs and jams & jellies.
Inman, GA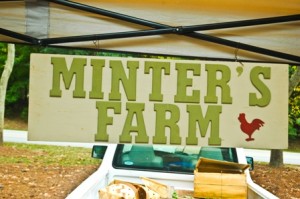 Welcome to www.mintersfarm.com, the official website for Minter's Farm and Inman Farm Heritage Days. The farm is located only 6 miles from downtown Fayetteville, 12 miles from Senoia and 16 miles from Peachtree City.
The drought has really taken a toll on our farm this year. Due to the EXTREME lack of rain, our trees don't have the normal height or fullness that we would have liked to have seen this year. It has effected us not only in the produce side of the farm but the Christmas trees as well. Please be understanding and also work hard to be sure you keep your live trees watered constantly. They will soak up the water from the stand like crazy. Never let the bottom of the trunk get dry – the sap will seal over it and it will no longer soak up water!
Our Christmas tree farm will open Thanksgiving Day and will remain open until Christmas Eve. Our hours of operation are from 9AM until dark. We have on our farm for choose-and-cut trees: Leyland Cypress and Virginia Pines; we also have Carolina Sapphires, Blue Ice and Red Cedars and they will be ready to cut around the 10th of December. The Fraser Firs will begin coming in right before Thanksgiving Day. Be sure to come by and check us out!
This year's Trees for Troops pickup at the farm was a HUGE success! We had over 130 trees we put on the truck bound for Fort Stewart thanks to Homestead Farms, Worthington Farms, Spring Brook Farms and the many wonderful customers at Minter's Farm who helped by purchasing trees. Our farm put 97 trees on the truck!!! THANK YOU FOR YOUR SUPPORT and God bless our troops and their families. Check out our video with FedEx to see what it's all about!
Bring the families out for good, old-fashioned family fun!
Some have had many people express an interest in our weekly blogs on "Postcards from the Po' Farm" so we decided to start up a newsletter in the new year! If you would like to sign up for our newsletter:
It's very exciting to see such an interest in the farm and what we're doing. Thank you!
Keep checking out the website, Facebook and Twitter (@mintersfarm) so you can keep in touch with the farm.
"Photos from the Farm" will allow you to follow our activities from season to season as will the "Postcards from the Po' Farm."
If you need more information or if we can help you in any way, contact us using the contact form or call us at 770-461-2840.
See you soon,
Rick, Joanne, Stephanie, Tammy and Abigail