Fifth Generation Family Farm
Specializing in locally grown vegetables, fruits & Christmas trees as well as farm fresh eggs and jams & jellies.
Inman, GA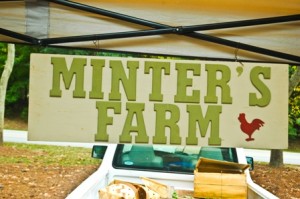 Welcome to inmanfarm.com, the official website for Minter's Farm and Inman Farm Heritage Days. The farm is located only 6 miles from downtown Fayetteville, 12 miles from Senoia and 16 miles from Peachtree City.
Our 5th Annual Inman Antique Truck Show is just around the corner – June 14th 9:00-3:00. Don't miss out on this fun, free adventure! We welcome all trucks of different sizes and conditions… they don't have to be 100% perfect (we even have an award for that)! David Adams with Big Pig Barbecue will be selling breakfast and BBQ lunch. The Griffin Piedmont Region of the Antique Automobile Club of America will also be hosting their annual car show – so bring your cars by and don't forget to register for both. We'll be offering dash plaques for the truck show registrants featuring Jerry Coleman and his 1971 Ford Car Hauler. We look forward to seeing everyone here at the farm – free registration and admission.
Some have expressed an interest in our weekly blogs on "Postcards from the Po' Farm" so we have decided to start up a newsletter! If you would like to sign up for our newsletter
It's very exciting to see such an interest in the farm and what we're doing. Thank you!
We are still attending the Peachtree City Farmers Market's (Wednesdays and Saturdays from 9AM-1PM in the parking lot by Partners Pizza) with seasonal produce, jams, jellies and farm fresh eggs that are collected, washed, candled and graded each day.
Keep checking out the website, Facebook and Twitter (@mintersfarm) so you can keep in touch with the farm.
"Photos from the Farm" will allow you to follow our activities from season to season as will the "Postcards from the Po' Farm."
If you need more information or if we can help you in any way, contact us using the contact form or call us at 770-461-2840.
See you soon,
Rick, Joanne, Stephanie, Tammy and Abigail