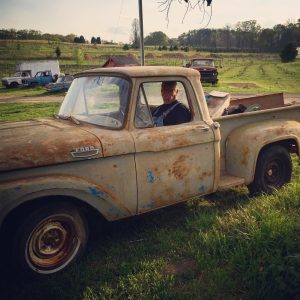 The term "barn find" pops up a lot in old car magazines and in classified ads. I always look at those claims with a bit of suspicion, but I do know of one that is for sure a barn find, or at least it was for me.
One of my neighbors, K.D. Booth, has collected some interesting old vehicles over the years. One old truck he had for sale beside the road for years always caught my eye, although it was priced somewhat out of my price range.
One Sunday morning, he was walking back to his house from picking up his Sunday newspapers and I stopped to ask about the truck. I wound up buying it and another that was in his barn, thus making it a barn find on my part, although it wasn't a recently discovered long-lost treasure.
It's a 1963 Ford short-bed pickup. It had been sitting there so long the brakes had seized, so to move it we removed the brake shoes. Steve Williams and I took a tractor and drug it home with a chain.
It had a 223-cubic-inch 6-cylinder engine. When Charles Warr and I went to check it out, it made the worst clanking sound you ever heard when we hit the starter.
We pulled the engine out and found one piston with a hole in the top and two badly burned-out rods.
While disassembling the engine we discovered that there was no shaft connecting the relatively new distributor to the oil pump. The engine evidently had been run at some point without the oil pump turning, and that explained the problem with the rods.
We disassembled the engine, and Scott Dooley and the folks at Scott's Machine Shop turned the crank and located a replacement rod. The other they were able to repair.
Charles worked the heads, reassembled the engine and helped me get it back in the truck.
We got a used radiator from Howell Fowler at Fowler Auto Parts. It wasn't an exact fit but I made some brackets to mount it to the truck.
The switch key was long lost, so I drilled out the old one and replaced it. The gas tank was a gooey mess, so I took it out and had Greg Butler at Pritchett Radiator Shop in Griffin boil it out.
When I was removing the gas tank from behind the seat, I found a little cup of bolts and nuts – and one oil pump shaft.
I got four used tires from Jerry Coleman at Coleman Auto Parts.
There are still a few things to fix. I plan to get Roscoe Smith to build the carburetor and Glenn Morris to put on a new exhaust system.
The body is rusty but mostly straight, so I'm trying to decide what to do about paint as I'm no good at body work or painting.
It's been a fun project so far, and I've had a lot of good help, as always.
In my work in the racing world, I used to get aggravated when winning drivers spent a lot of time thanking their sponsors and the boys back at the shop. Now when I write these blogs, I find myself wanting to do the same thing.
So thanks to Steve, Charles, Scott, Howell, Jerry, Roscoe, Glenn, K.D., Greg and all the other folks who make it possible for me to do the things I enjoy.