If you never got to know the late Clarence Betsill, the man who created the popular liquor still exhibit at Inman Farm Heritage Days, you missed a real treasure.
He was a simple man – a mechanic, farmer and yes, a moonshiner. And he was one of smartest, quickest-minded people I've ever met.
For most of his life, he also dealt in scrap iron, recycling old cars and such. When prices got high, he always reminded his fellow scrappers that if you sold out all of your inventory, you'd soon be out of business.
So he always was buying, even when the market was telling him to sell.
The same philosophy applies to collecting old trucks, tractors and cars.
I know it comes as a surprise to some, but I have sold a few items in the past, mostly pieces I accumulated that were beyond repair.
About 10 years ago, when scrap prices were high, I'd hauled off a few old hay balers and other various parts and pieces I'd accumulated.
They brought a pretty good price, but I thought back to what Clarence had said, so I scanned Craigslist, looking to restock, so to speak.
I came across a 1954 GMC 350 for sale between here and Griffin.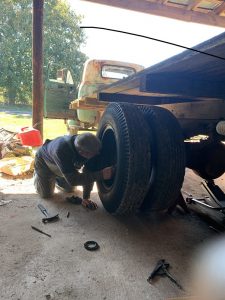 I went down there on a Saturday and made a deal for it.
A few days later, my friend Johnny Brown and I went down there with his rollback to pick it up. It went without a hitch, and we didn't go a minute too soon.
Just hours after we left, an F3 tornado blew through the area where we got the truck. Over the years since, Johnny and I have talked about the folks we saw that day, and how they were in such danger a short time later. As far as we know, they all came through unscathed.
Once we got the truck home, I checked the engine, a six-cylinder, and found it stuck pretty tight. No surprise there.
It got put on the backburner for a while, but we eventually got around to working on it. I pulled the cylinder head off and found two cylinders rusted tight. I asked Charles Warr, who had just helped me rebuild another engine, to stop by and give me his opinion on how I should proceed.
I explained that I was only looking for advice, as I'd just hit him up for a really big favor.
Charles came and advised that the two cylinders needed to be bored and sleeved. I thanked him and expected him to leave at that point.
Instead, he said he was going to help me fix it. A few minutes later we were removing the hood and eventually the engine.
Charles bored the block, worked the heads and soon we had an engine good as new.
Steve Williams helped me put it back in the truck, and it ran like a champ. The gas tank was rusty, so it was replaced.
Most of the tires were shot, so we rounded up some good used ones and got it rolling.
Of course the brakes were ruined, so they had to be redone. The part numbers for brake parts for old trucks can be elusive in the computer age, but our friend John Walls still has a set of old NAPA parts catalogs.
He looked them up for us. For those who are interested, the part numbers for front wheel cylinders are 14497, and the rears – it takes two per side – are 18196 and 18197.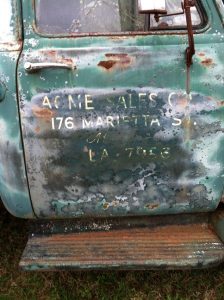 Marvin Williams, known far and wide for his auto body talents, has agreed to help replace some broken glass. He's been a good sport about helping on my rusty relics even though it's against his nature to be content with rust, dust and dents.
The cab, like a lot of others here, is pretty rusty, but since I was into patina long before it was popular, it's not going to be touched, other than a patch at the bottom of the left door.
I did sand off a little peeling paint on the right door and discovered a real treasure – faded lettering from the truck's working days. It reads "ACME SALES CO. Inc., 176 Marietta St. Atlanta, Ga." And there's a phone number, LA7956.
The best I can tell that address is now a part of Centennial Olympic Park.
Every old truck has a story. I wish I knew more about this one.