Fifth Generation Family Farm
Specializing in locally grown vegetables, fruits & Christmas trees as well as homemade jams & jellies.
Inman, GA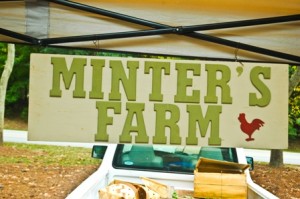 Welcome to www.mintersfarm.com, the official website for Minter's Farm and Inman Farm Heritage Days. The farm is located only 6 miles from downtown Fayetteville, 12 miles from Senoia and 16 miles from Peachtree City.
Our 2017 Christmas Tree Season is upon us and we are ready for things to get started! Our hours have changed for this year – Monday thru Friday 10AM until dark and Saturday & Sunday 9AM until dark.
The trees we have available this year are Leyland Cypress, Virginia Pines and Fresh-Cut Fraser Firs. Our Red Cedars won't be available until the 2nd weekend in December. We will also have a few wreaths available to purchase in our Christmas Shoppe as well as some beautiful ornaments and Christmas decor. Don't forget to look around… can't miss out on your hot cider!
Check out our Trees page for some tips for your trees this year. Every year, we have folks ask us what is key and what we do to maintain the freshness of our tree. We've compiled a short list of our most important tips to share.
Our Trees for Troops program is also under way and quickly drawing to an end. The trees will be picked up Wednesday, November 29th and delivered to Fort Rucker in Alabama. Please help support our troops and their families by providing a real tree for them to put in their homes this Christmas. What a wonderful way to show our love and support! You can purchase a tree in our Online Store as well as at the farm.
Some have had many people express an interest in our blogs on "Postcards from the Po' Farm" so we decided to start up a newsletter in the new year! If you would like to sign up for our newsletter:
It's very exciting to see such an interest in the farm and what we're doing. Thank you!
Keep checking out the website, Facebook and Twitter (@mintersfarm) so you can keep in touch with the farm.
"Photos from the Farm" will allow you to follow our activities from season to season as will the "Postcards from the Po' Farm."
If you need more information or if we can help you in any way, cotact us using the contact form or call us at 770-461-2840.
See you soon,
Rick, Joanne, Stephanie and Abigail