Fifth Generation Family Farm
Specializing in locally grown vegetables, fruits & Christmas trees as well as homemade jams & jellies.
Inman, GA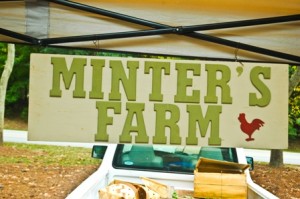 Welcome to www.mintersfarm.com, the official website for Minter's Farm and Inman Farm Heritage Days. The farm is located only 6 miles from downtown Fayetteville, 12 miles from Senoia and 16 miles from Peachtree City.
The 21st Annual Inman Farm Heritage Days is upon us. Irma couldn't keep it away! We have cleaned up the grounds and are busy getting tents up for the event. Don't forget to save the dates in your calendar and bring the whole family out – September 15-17, 2017. Things will be going on all 3 days of the event, so don't miss out! FREE admission. We will have souvenir programs, t-shirts, hats and buttons for this year's show to help offset the costs of the show thanks to some pretty amazing people – a special thanks to Donald and Amy Jones, Perfect Image, Atlanta Cap Company and American Specialty Awards. Please come out and support the vendors and show the exhibitors your support! Let us know if you have any questions about the show or about becoming a vendor/exhibitor/advertiser/volunteer.
Some have had many people express an interest in our blogs on "Postcards from the Po' Farm" so we decided to start up a newsletter in the new year! If you would like to sign up for our newsletter:
It's very exciting to see such an interest in the farm and what we're doing. Thank you!
Keep checking out the website, Facebook and Twitter (@mintersfarm) so you can keep in touch with the farm.
"Photos from the Farm" will allow you to follow our activities from season to season as will the "Postcards from the Po' Farm."
If you need more information or if we can help you in any way, cotact us using the contact form or call us at 770-461-2840.
See you soon,
Rick, Joanne, Stephanie and Abigail